Today marks the start of our Spider and Bat unit. The addition of a spider unit is new for me…and I'm not quite sure how I feel about it. I am NOT a fan of spiders!
In preparing for this unit, I have been trying to look at spiders from a different point of view. In fact, just this morning, my daughter called my attention to a giant one cruising along our brick walkway. The teacher in me rushed to get a picture, while the regular person in me wanted to scream and run away.
October on our avocado ranch is spider season. The large orchard spiders are out in force….which means there are spider webs EVERYWHERE! When driving on an ATV or crossing between two trees, we must be very aware of impending spider webs. The webs are thick and large. After the rain though, they glistened with water drops and sparkled in the sun. (See I am trying to appreciate spiders!)
So today the unit began. I always enjoy hearing from the students what they already know about the topic at hand. Today was no different. Students shared many facts with me. I write down everything they tell me, even facts that may not be facts. Throughout the unit we add new learning to our Spider Wall as well as reclassify facts that are not true to the "Misconceptions" area of the wall. I love having bulletin boards that are a work in progress!
We also took a survey regarding who likes spiders. Here are the results: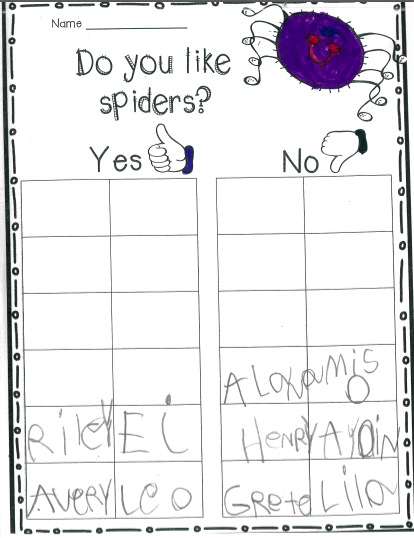 We will see if anyone has a change of heart after this unit!