We finished our stuffies today and boy are they cute! Students were taught the whipstitch and encouraged to practice that stitch on their stuffies.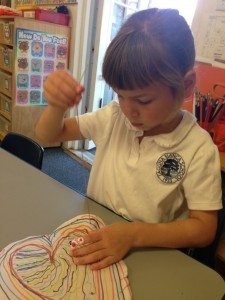 They were such pros! No finger pricks to report, except for the fingers of the parent helper and myself! The students loved putting the stuffing into their stuffies and snuggling with their finished project.
Here are some pictures of our completed projects:
So proud!
We did two other Friday Fun activities as well. The first was a turkey globe votive candle holder. These make such an adorable center piece on a Thanksgiving table.
A student uses Modge Podge to glue down pieces of tissue paper on the outside of the glass votive.
Gobble! Gobble!
The second Friday Fun activity was a cooking activity. The students made Easy, Peasy, Pumpkin Pie!
Here's the recipe:
Ingredients:
Keebler Mini Graham Cracker Ready Crust (the best part!)
Pumpkin Pie filling
Vanilla Instant Pudding Mix
Milk
Pumpkin Pie Spices
Whipped Cream
Directions:
Make the pudding. Once the pudding sets, mix it with the pumpkin and spices. Pour into the graham cracker pie crust. Top with whipped cream.  Easy peasy-no bake! Enjoy!
Feel free to add decorations!