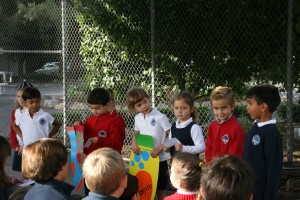 The kindergarten class is starting our third service project of the year. We presented the idea to the school at our Tecolote Tuesday assembly this morning. Kindergarten will be facilitating the collection of new pairs of adult sized socks and bottles of shampoo and conditioner for the local non-profit Angels Bearing Gifts.
"Angels Bearing Gifts brings happiness to people with developmental disabilities who have no one to remember them by providing gifts on birthdays and holidays. We foster compassion within the community towards those with developmental disabilities via year-round educational outreach and volunteer activities."
Besides teaching a lesson in compassion and service, I have tied the collection of the socks and shampoo to math. We will be tallying the number of items that come in each day. Our service project will run from now until December 6.
Here's a little clip from our assembly….an original song about socks:
(click on the words "sock song" to see the video.)
Check back December 6 to see what the final tally of items is!