We were honored to have author and yogi Teresa Power visit our school on Tuesday. She began her morning at our weekly all-school meeting where she discussed being an author and the reason why she wrote a book on yoga. She also taught the students several yoga poses. Later, she visited kindergarten, where she read students her book The ABC's of Yoga for Kids.
From Amazon: "Children today are faced with overstimulation as they strive to keep up with the demands of our fast-paced society. Practicing simple yoga postures is the ideal way for kids to naturally unwind and obtain physical activity at the same time. With The ABCs of Yoga for Kids, children can practice yoga, a non-competitive form of exercise, while learning the alphabet and reading lyrical explanations of the actual yoga poses. Yoga helps children become calmer and more self-aware. In addition, it develops their flexibility, coordination, focus, and strength. The ABCs of Yoga for Kids uses the alphabet, rhyming vignettes, and colorful illustrations to introduce children to basic yoga postures in a kid-friendly way. Endorsed by Sinjin Smith, Olympian & World Champion Volleyball Player, as well as David Simon, M.D., Medical Director of the Chopra Center for Wellbeing and author of The Seven Spiritual Laws of Yoga and Free to Love, Free to Heal , this book appeals to both children and adults seeking to incorporate healthy activity into their daily lifestyle."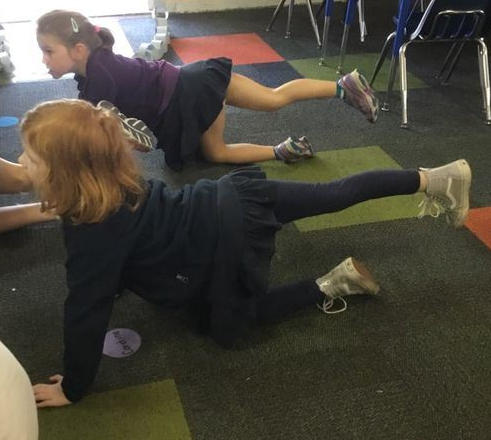 C is for cat pose.
T is for table pose.
The students LOVED matching the letters of the alphabet to different yoga poses!
Thank you so much, Ms. Power, for visiting Laguna Blanca!