We have been celebrating Friendsgiving all week in Kindergarten. I first introduced the idea of showing gratitude to our friends through a read-aloud on Monday morning. The Most Thankful Thing, by Lisa McCourt was the perfect way to start this activity.
"When a little girl asks her mom what her 'most thankful thing ever' is, Mom turns the question into a fun trip down memory lane. Turning the pages of Mom's photo album, they discover many wonderful moments in Mom's life, from summer camp to winning a trophy in a soccer tournament, from singing onstage to her wedding day. But one event in Mom's whole life is the very best ever — the birth of her precious little girl." -Amazon
We then compiled a list of things for which we are thankful. Next, I told the students that for the rest of the week, we would be making small, thoughtful gifts for our friends. Students picked a name from our special turkey and that was the person for whom they would create each project.
We began with a drumstick bookmark.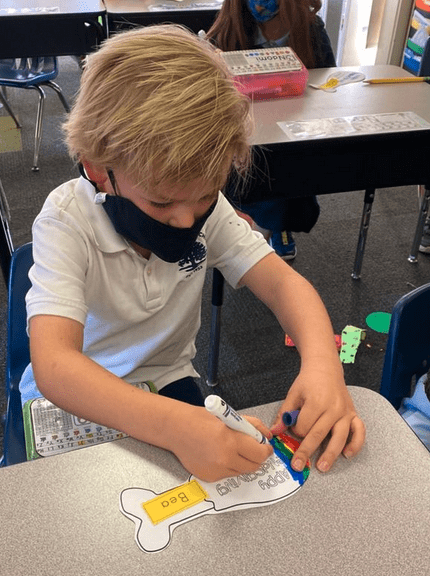 I was nervous that the students would have a hard time with completing the craft and giving it away, but so far, they have been very excited to sneak their crafts into their friends' Friendsgiving Swag ags.
The next day, students made a corny joke book. I printed jokes on colored paper. Students chose a joke and then cut the joke part off the punchline part. Here is an example that I made:
The next day, I shared some things for which I am thankful.
The project on this day was to write an adjective on a turkey feather to describe their friend. Look how cute these turned out!
Students made a "sweet as pie" craft.
They also made a pinkie promise to their friend. Here are some examples of the special promises that were made.
It was very sweet to see how seriously the students took their promises. I love that they promised something that is important or special to them.
With two days left before break, there are a few more projects to go! I plan on having the children make a fall-themed bracelet and a turkey pin to give add to a friend's swag bag!
Parents, I will be sending your child's bag home on Friday! They will not have opened them yet! Please share with me your child's reaction!