Our Morning Exploring activities are taking exceptionally long to get through this year since the students have to do each one independently and without sharing materials. I am still using the "one day: Morning Exploring Activity and next day playdough" schedule with my kindergarteners, so I modified this month's activities, making only seven. This means that it will take fourteen days for each student to get through each activity. Phew….it will be time for November before we know it!!
The October activities are colorful and have such fun manipulatives for the student to explore. And they teach a BUNCH of important kindergarten skills!
Activity 1: Roll one or two dice. Add that many flies to the spider web using tweezers. This activity is easily differentiated by giving students one, two, or three dice. It also helps strengthen fine motor skills by having students use tweezers to move the flies!
Activity 2: Beginning Sound Pumpkin Puzzles: Students dig pumpkins out of a sensory bin (fall colored dried noodles!). They find the letter that matches the initial sound of the picture shown.
Activity 3: Count and record pumpkins. Students take a numbered container, open it, and use the tweezers provided to count the number of pumpkins stored inside. They then write that number on their recording sheet. Activity 3 works on building number sense, strengthening fine motor skills, and writing numbers.
Activity 4: LEGO Brick Building Cards: Students choose a special thematic LEGO design and try to build! This activity builds hand/eye coordination, strengthens fine motor, and encourages creativity!
Activity 5: Tens Frame/Teen Number Match. While digging through another sensory bin, this one filled with birdseed and acorns, students search for teen numbers and the tens frames that match. They then link the matching cards together. Activity 5 focuses on teen number identification and building awareness and understanding of tens frames.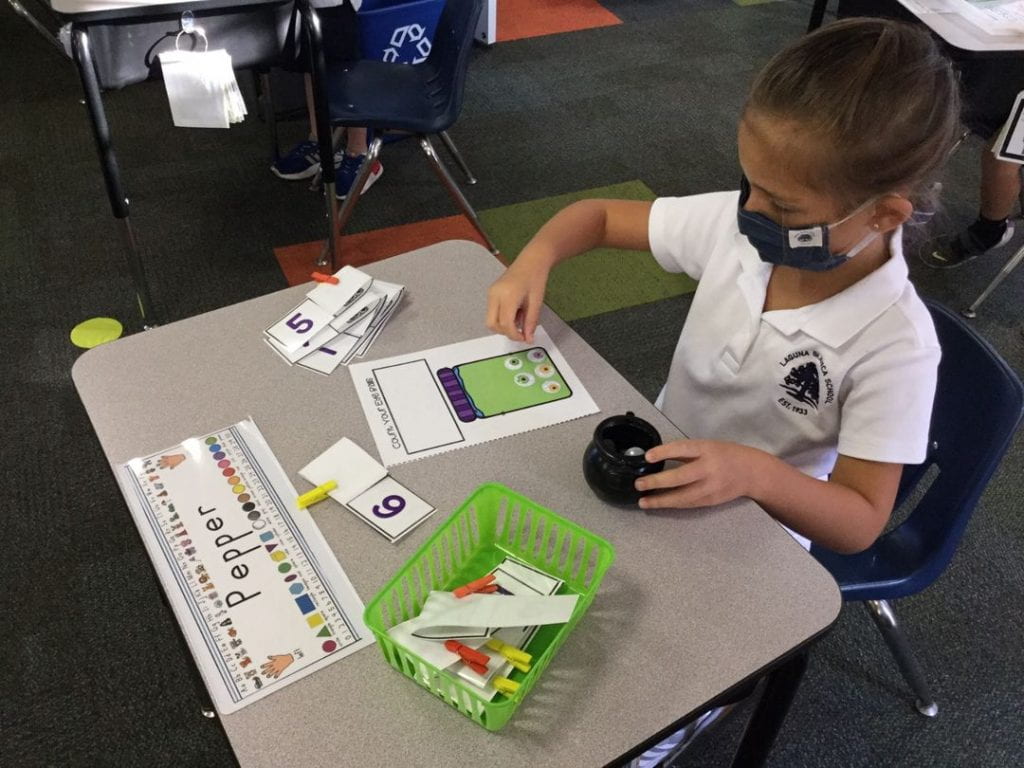 Activity 6: Monster Eyeball Number Sense: Students choose a number card and place the corresponding number of googly eyes into the jar. Students unclip the card to check their work. This activity helps strengthen number sense and fine motor skills.
Activity 7: Sticky Fingers! Students use mini stickers to outline a pumpkin. They then count how many stickers were used and record that number. Activity 7 strengthens fine motor skills as well as rote counting skills.
And the playdough activities…. so far students have made monsters and jack-o-lanterns. More fun to come!