Our first days of Kindergarten have been exciting! After our all school meeting on Wednesday, students returned to the kindergarten classroom to make a personalized name necklace. While they worked on adding twenty or more beads, I snuck other students outside to snap their picture. There's nothing like an official first day photo!
Students work to add twenty or more beads to their necklaces.
Next, students listened to a funny book called, David Goes to School. Poor David runs in the classroom, talks all the time, and pulls children's hair. The illustrations in this children's book are bright and colorful. The students were wide-eyed as they learned all about David's first day of school. It was pretty clear to them that David needed some help making positive learning choices. I had a pocket chart sort all prepared for this! I showed students a picture card and they decided  if the picture depicted a peace-maker ora peace-breaker. The end result was this:
To further support their understanding of peace-makers and peace-breakers students engaged in a cut and paste activity. Cutting one of many fine motor skills the children will continue to develop in Kindergarten.
Day two began with the students sharing their summer treasure boxes. Last week, when the kindergarteners came to a meet and greet picnic, I gave each family a treasure box and asked them to decorate the box and to fill it with three special items related to their summer vacation. Not only would we all learn about each student, but the students themselves would be excited to return to school to share their items!
I also read aloud a wonderful book, Elmer, on the second day of school. Elmer is a patchwork elephant, who is loved by his friends because of his sense of humor. Sadly, Elmer thinks his friends laugh at him because he looks different.
Once he covers himself with "elephant colored" berry juice, Elmer discovers that his friends don't notice him. Ask you child how this sweet story ends….
We discussed how we love to celebrate what makes us special. I then told the students about a craft activity I had planned for them. They were to first create a rainbow background using tissue paper squares and glue (another fine motor strengthening activity!).
Then students participated in a self-portrait directed drawing activity using only a white piece of paper and a black Sharpie.
Look at the final result: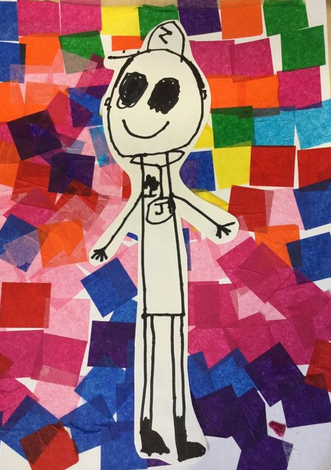 We wrapped up our Friday with Choice Time and Art class.
I think we are ready for full days next week!