I had the opportunity to accompany our third grade class to Legoland this past weekend for the culminating activity in their First Lego League Jr. experience. Back in December, I joined Ms. Svedlund as the second coach for the Laguna Lego League team. The theme for this year was Creature Craze, and the challenge was three-fold:
Choose an animal that lives within the same habitat as the honey bee
Learn about the animal and its habitat
Show what you learn through a LEGO model and ShowMe poster.
Our team met once a week after school for eight weeks. Students began by choosing their animal and creating a team name. We were thrilled to have three teams: the Butterfly Bunch, who chose to research the butterfly, the Tweeters, who chose to research the mountain blue jay, and the Peregrine Falcons, who researched the Peregrine Falcon. In conjunction with their animal research, we educated students on the honey bee and the honey bees habitat. Students built the honey bee hive kit that the Lego League provided for each team and began to brainstorm ideas on how to incorporate the hive into their habitat.
The next step was for the teams to sketch preliminary plans for their model. Then the building began!
One of the requirements was that each model had to have a moving part. Using the WeDo 2.0 kit, students used a motor and constructed a moving part. They then modified their piece to better fit their animal. The Butterfly Bunch, for example made the butterfly move using a motorized pulley, while the Tweeters made their mountain blue jays beak open and close using simple gears and a pulley. The Falcons built a sweep that they transformed into spinning talons. Teams then programmed the moving piece to do its movement.
Students were also required to create a Show Me poster that included information about themselves, their research on both the honey bee and their animal, and the process for creating their model.
The final step was to meet at Legoland for the Expo! We set up the models and posters and waited for the reviewers to visit each group.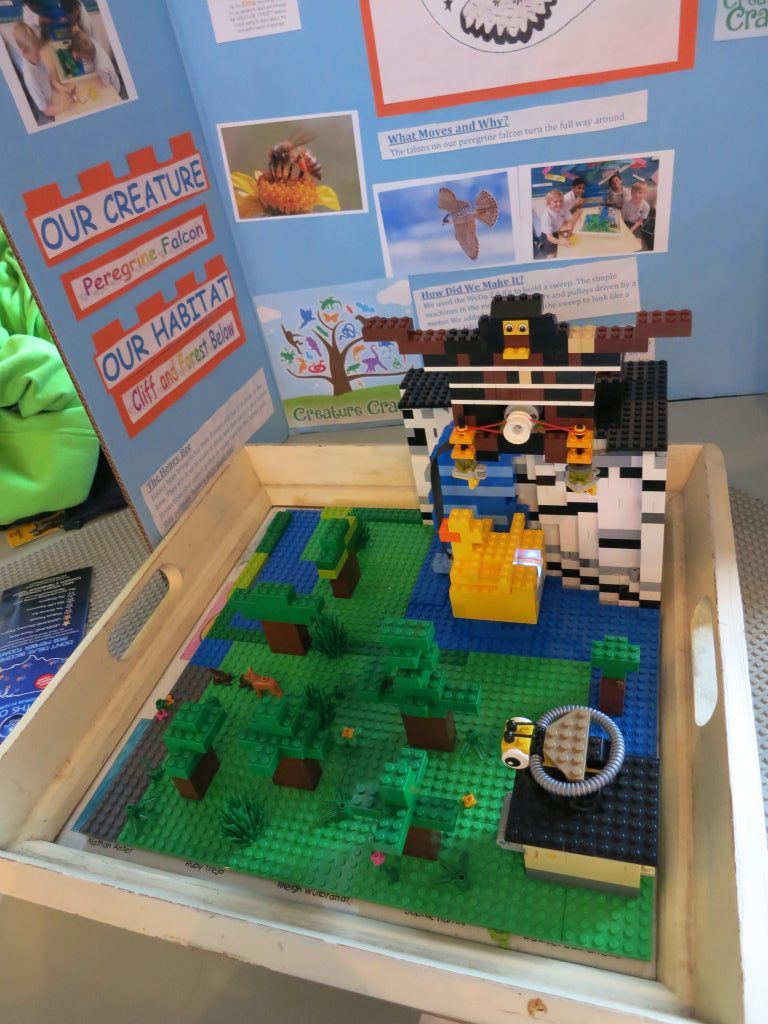 Here are a few clips from the Expo that highlight the moving parts of the model.
 The students presented their creations and were confident in answering the many questions the reviewers asked.
The Expo ended with a High Five Ceremony, where each participant received a ribbon and a certificate, and the reviewers spoke about each project.
What a fun and educational day! We are very proud of our third grade teams.