The Kindergarten class spent March and April studying the ocean, including the intertidal zone, more commonly known as tide pools or the rocky shore.On Monday, we went on the most amazing field trip to some very special tide pools that are virtually untouched.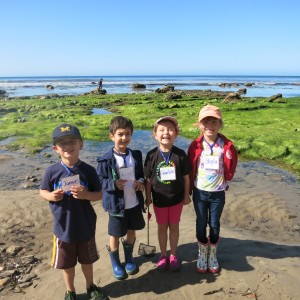 For the past five years, our science teacher, Mrs. Svedlund, has begged the people that run this specific tide pool program to let our Kindergarten class attend. (Usually they only allow grades three and up.) This year, the program directors finally made an exception, and we were welcomed to attend.
We left school early in the morning, 7:30 to be exact, in order to make it to the tide pools by low tide. The docents gave us specific instructions and were immediately impressed with how well the students listened. We broke up into two small groups and headed down to the beach.
The tide pools were stunning. Green grasses and algae covered the rocks, making for some slippery slopes! The children identified shore crabs, sea stars, sea anemones, and even got to hold a purple sea urchin! They learned about Turkish kelp and even took turns wearing a kelp boa! There were mussels, mermaid purses, and even octopus! We saved a sea hare from drying out by returning it to a shallow pool of sea water, but not before the children had a chance to hold it!
Our rocky shore expedition ended with a snack to refuel the students. We all agree it was an exciting trip! Today we received an email from the director of the program complimenting the students on their listening skills and inviting the kindergarten class back next year! Thanks Mrs. Svedlund for your persistence!