Every year, I revamp Literacy Centers, formerly known as Literacy Workstations. I decided to change the name this year because often, when students hear the word "work," they are less inclined to be excited about the activity. So, Literacy Centers was born. My centers' rotations also depend on the number of students enrolled. I like to keep my groups small with three or four students; that way, they truly receive individualized instruction. To do that this year, I am moving from four center rotations to six. I spent the summer trying to balance our daily schedule innovatively…there was no way I could expect the students to participate in six centers daily. Plus, if each center takes 15 minutes, having six daily rotations would mean a lot less time for thematic units. (I will post about thematic units soon!) So, after a lot of sketches, prototypes, and ideas, I decided that students would complete six Literacy Centers over the course of two days.
Here is how that currently looks:
I am in charge of managing the four inside centers, and Mrs. Riley manages the two outside centers. (The outside stations are the stations with the sun clipart. I thought this visual would help students know where to go.)  Let's take a look at the activities.
Students who are meeting with me are receiving differentiated instruction that meets their individual needs. I use various materials to help students learn letter sounds, blend sounds together, and ultimately begin reading. Once students are reading CVC (consonant-vowel-consonant) words, they begin reading decodable text. Because I am meeting each students' needs during this specific rotation, I also prepare lessons that target reading comprehension skills. Using Guided Reading Level books, I can easily differentiate my program to accommodate all reading levels, including those students who come into kindergarten reading at a third-grade level!
For the Listening Center, in the age of COVID, students use an iPad and their own set of headphones to listen to a story. Each story can be found by scanning a QR code. Students are then taken to Safe Share T.V., where they listen and follow along with a book that is being read aloud. Many times the story that I have chosen fits in perfectly with our current topic of study.
The Word Work Center has been completely revamped. Look at these perfect storage containers! I saw them this summer and intended to find the number I needed in the specific color I wanted. I am grateful my sweet husband agreed to stop at just about every Dollar Tree on the way to Monterrey to make that happen!
Inside each kit are all the materials one student needs to complete the activity. Here is a closer look:
Students match uppercase and lowercase letters and link the matching cards together.
Students use clothespins to clip the images that start with the given letter.
My goal with the Word Work Center is that students are engaged, demonstrating knowledge, building fine motor skills, and working independently for ten to fifteen minutes. As students' literacy skills grow, so will the Word Work Center. The focus will move from identifying beginning sounds to middle and ending sounds to digraphs and long vowel sounds. There is so much that can be covered!
The Write the Room Center allows students to move around the classroom while completing the activity. I hang little cards around the classroom that have images on them. As students become more familiar with my hiding places, I try to get creative and hang the cards in trickier spots. (I might have hung some on the ceiling or under a student desk at one point!) Students have their own clipboard and recording sheet. Each Write the Room activity is based on a specific skill. For example, last week, students looked for picture cards that rhymed with an image on their paper.
Here is an example of the picture cards that were hanging around the room.
They then had to either draw a picture of the item that rhymes or write the actual word.
Recording Sheet
This is the perfect way to differentiate the activity! I love that students can be active during this center and that they have to demonstrate an independent understanding of specific skills.
The fifth rotation meets outside with the kindergarten assistant, Mrs. Riley. Mrs. Riley's center usually focuses on learning our weekly Star Words, or sight words, or practicing printing using a specific series of strokes. We begin the year using the Zaner-Bloser printing curriculum. As the year progresses, students are given several opportunities to formally practice printing in a small group environment, focusing on pencil grip, letter formation, and more. I have created a Dinosaur A-Z printing book and a Santa Barbara Marine Life A-Z book to support these learning goals during our thematic units.
Our final rotation will change twice a week. For the first two days, students will enjoy using their Challenge Kits. (Foxwell Forest, TPT) These kits are amazing! Of course, they are theme-based, which I love. They also focus on strengthening fine motor and spatial awareness skills. Each kit uses building blocks (aka LEGO bricks), a mini Magna doodle, and playdoh. Students receive a set of task cards for each manipulative. This week students will be creating things that have a short vowel a in them.
Examples of Challenge Kit cards. Really incredible. Kind of wish I had thought of the concept!
The activity for the second rotation is a Playdoh Literacy Kit.  Students have other opportunities to use playdoh for creative fun, and I aimed to find activities that focus on literacy skills. Activities for this center include a syllable smash where students choose a picture card and roll several balls of playdoh. They then smash the same number of balls as there are syllables in words.
Example of cards students will use for Syllable Smash activity.
Students also use playdoh and letter stamps to identify the pictures' beginning, middle, and ending sounds.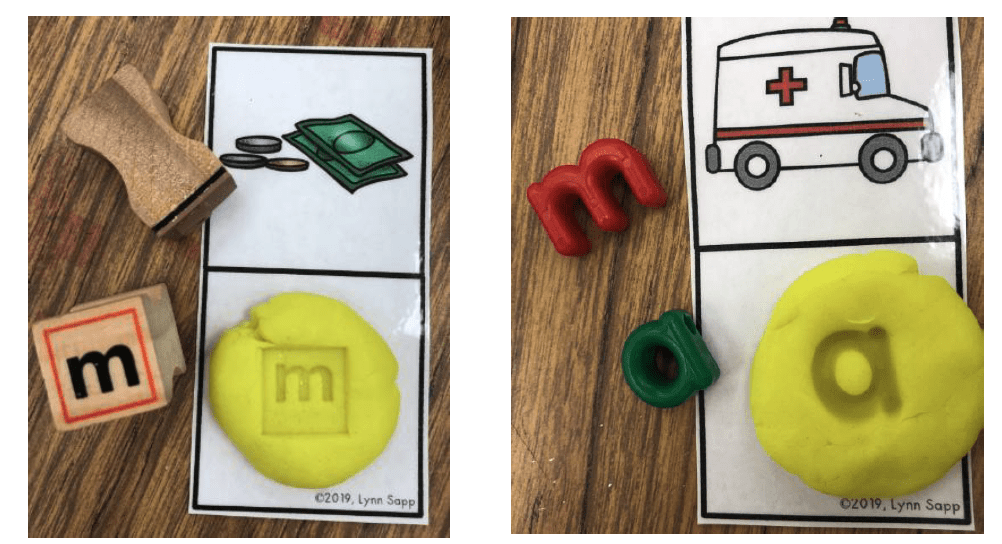 I anticipate changing this sixth center activity as the year progresses and students learn different skills. Perhaps this center will turn into a writing center second semester. I know the possibilities are endless.
We are wrapping up the second week of this new-to-me system, and so far, so good!