Courage was this week's Swooper Citizens theme. We started the lesson asking the students to share a time when they may have felt scared or nervous. Nightmares were the hot topic. We discussed how the students needed to be brave to conquer their fears.
Next we watched a brief video on having courage to do the right thing.
The read aloud this week approached the topic of courage from a different direction. Now One Foot, Now the Other by Tomie de Paola is a touching story about a boy and his grandfather.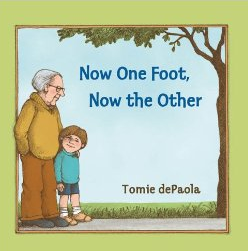 Bobby and his grandfather, Bob are close. Grandpa Bob tells Bobby stories and builds block towers with him. Grandpa even teaches Bobby to walk. One day, Grandpa has a stroke and can no longer walk or talk. Doctors think he doesn't recognize family members. Bobby is not allowed to see Grandpa at first. After many months, Grandpa moves home. When Bobby tries to talk to him, Grandpa makes a grunting noise, scaring Bobby out of the room. Bobby finds the courage to go back to see Grandpa Bob and realizes that Grandpa Bob does recognize him. What follows next is a touching series of events that show Bobby reteaching Grandpa how to build block towers, tell stories, and even walk. (So touching in fact that I had to have Ms. Atkinson read the book to the students as I sat sobbing in the corner!) I pulled it together enough to ask the students how Bobby demonstrated courage in the story.
We then boarded the bus to the harbor, where we were met by Officers Martinez and Alldredge of the Santa Barbara Harbor Patrol. The invited us to board the Harbor Patrol rescue boat!
As we climbed safely aboard and sat on the deck, Mr. Alldredge spoke to the class about courage.
Next, students were invited to explore the boat! They got to shoot the water cannon.
The sat in the wheel house and "navigated."
And even got to try on the officers gear!
It was a beautiful day on the water!