Our 50th day of school fell on the day we returned from break last week! I had prepared the classroom before we left the week before, and the students were shocked to see the transformation.
My favorite comment was, "Wow, it really does look like a shake shop in here!" Not only did they love the decor, but they enjoyed seeing the morning attendance on the Smart Board. We jumped right into our 50th-day activities even before the morning bell rang!!
I took pictures of each little greaser in front of the 1950's car.
Then the rotations began! I made sure to organize the activities using the same method that we use daily during our Literacy Centers…that way students were already familiar with the flow.
During my rotation, students participated in a writing activity: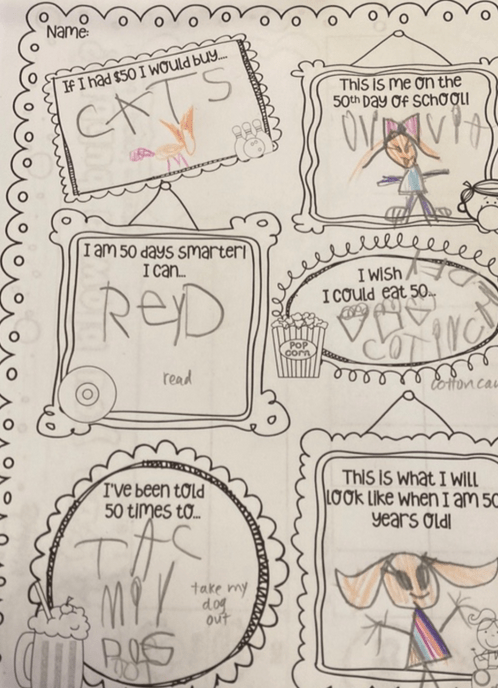 Students learned how to blow a bubble gum bubble in another rotation. Would you believe that five of the students were able to blow a bubble?! That is a new record!
Students also had to create something using 50 LEGO bricks. I loved their creativity!
The Word Work station had students identifying the middle sound in CVC words. Each vowel was on a bubble that the students then matched to the card.
Even during our daily PE class, the children learned about the 1950s when they were taught how to hula hoop!
Our day ended with rootbeer floats!
Parents were invited to join in on the fun!
It's the month of special days! Next up is Elf Workshop!