Since my early years of teaching, one of the most important programs I implement each year is the Read Every Day!-formerly the Home Reading- Program. This program is instrumental in propelling my students into motivated and accomplished readers. It also provides me with an opportunity to differentiate for students.
So what is Read Every Day! and why does it work? Well, since 1998 I have been collecting books. (Yikes! When did I get so old?!) Decodable books and Guided Reading books. I found that when parents were eagerly trying to support their beginning readers, they were struggling to find material that their early readers could actually read independently. Children were becoming frustrated because they couldn't read the Level 1 readers that were dubbed "perfect for beginning readers." That is when my quest for decodable text came to be. (A line of text in a decodable reader might read: "Sam sat on a mat" and uses mainly words that can be sounded out or decoded.) I knew that if I could collect a bunch of books that students could read, and send them home nightly for practice, I would see an uptick in the confidence and skills of my beginning readers.
Now, more than 20 years later, I have amassed a huge collection of books that students take home nightly. (Thank you, parents, for all your Scholastic Book Orders throughout the years! I put the Bonus Points to good use!)
Once a student begins to blend sounds, I start sending home a word list. These lists have ten CVC words on them, organized by the middle vowel sound.
Students take the list, read it aloud to someone at home, return it the next day, and read it aloud to me. They choose a sticker, and then I select a new list to send home.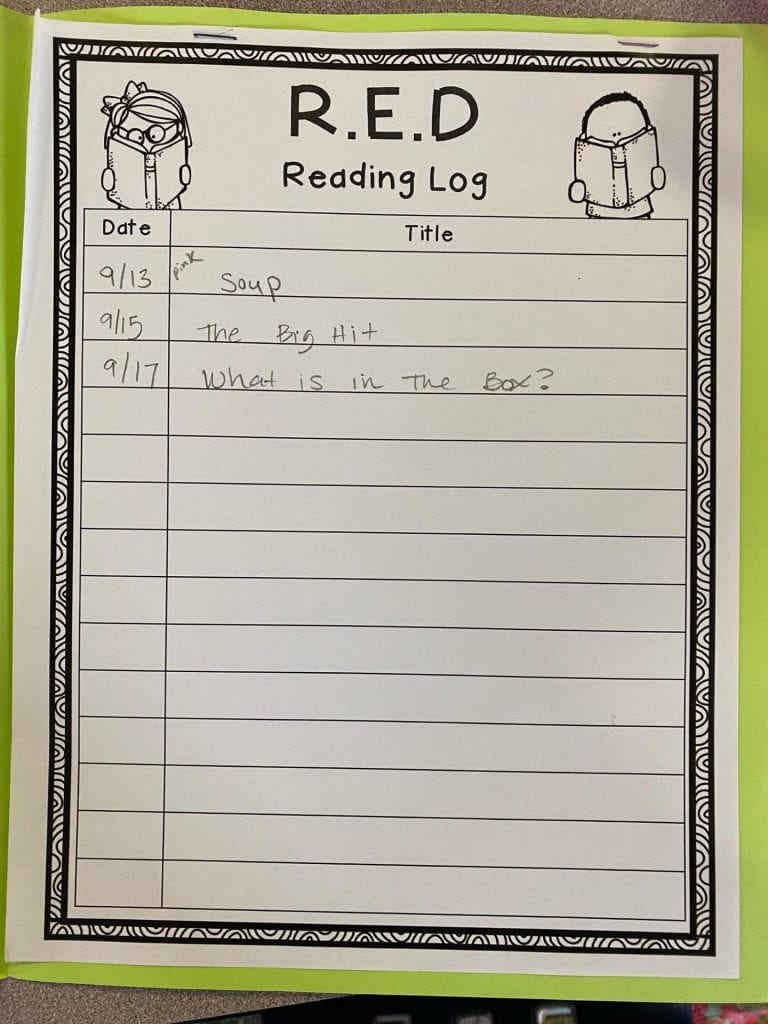 Here is an example of a student's Read Everyday log.
Once I see their blending skills have solidified, I begin sending home books. First, the books have mainly CVC (consonant-vowel-consonant) words with a few high-frequency words sprinkled in. The next level books still have short vowel words but include digraphs and more challenging high-frequency words as well. Next are books with the long vowel magic e spelling pattern, found in words like cake, pile, stove, etc. Once students can read words with long vowels, I try to transition them to Guided Reading books, usually beginning at a level D. "Guided reading levels are simply a system developed originally by Irene Fountas and Gay Su Pinnell to help organize reading skills and strategies so that readers are not overwhelmed. It ranges from levels A-Z with A being the simplest and Z being the most complex of the guided reading levels." (mrs.richardsonsclass.com)
Read Every Day! really motivates the students. They love the accomplishment of finishing a book each night or of reading a chapter book. Students look forward to choosing their daily sticker to decorate their Read Every Day! folder. By the end of the year, we have really colorful folders that demonstrate the program's success.