Have you ever had an idea that you thought was amazing until you actually tried it? I have….and it's the November sensory table filler! Last summer as I was ordering supplies for the school year, I compiled a list of items to purchase that would fill the sensory bin each month. Pasta, puff balls, sensory sand, shredded paper, dried beans, rice, and FEATHERS. How wonderful would it be for the children to dig through mountains of feathers to find the items I had hidden in the sensory table?! The feathers would add a colorful and festive touch to the classroom learning environment. Students would feel the softness, smoothness, and pokey edges.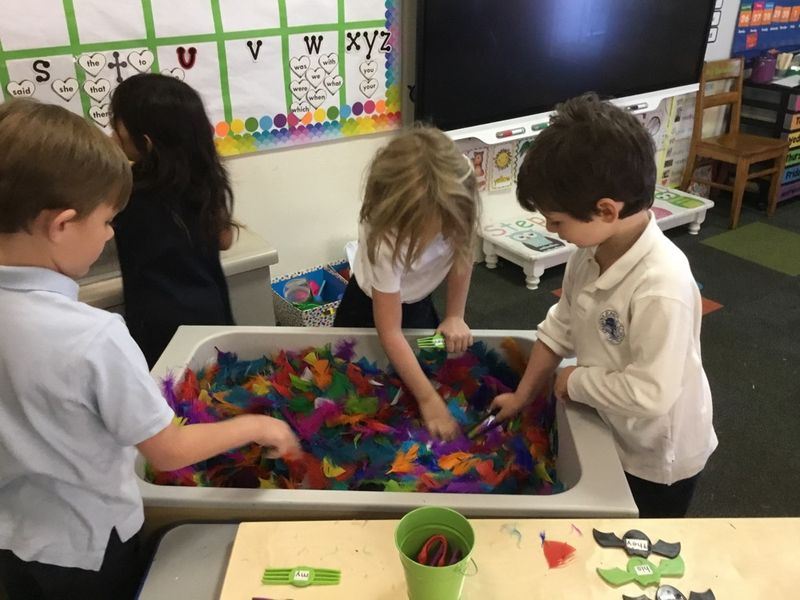 Well…..that all sounds great, but once the sweet students began moving the feathers around in search of the bats and spiders I had hidden beneath, they became covered with feather fluff! Feathers went everywhere….on the floor, on their clothes in their eyes….what a mess!!
Thankfully, these students have really great senses of humor! They completed the high-frequency word matching activity with positive attitudes.
See how excited they were?!
A mess is a sign of fun learning, right?
Needless to say, the feathers have been put away and the new, and hopefully less invasive, sensory table filler is ready to be explored.