St. Patrick's Day is here! Yesterday, Students were treated to a special read aloud and activity that was geared towards teaching them about those magical, tricky little critters called leprechauns. Dr. Kia-Keating returned to read students The Night Before St. Patrick's Day by Natasha Wing.
Natasha Wing puts an Irish twist on a Christmas classic. It's the night before St. Patrick's Day, and Tim and Maureen are wide awake setting traps to catch a leprechaun! When they wake the next morning to the sound of their dad playing the bagpipes and the smell of their mom cooking green eggs, they're shocked to find that they've actually caught a leprechaun. But will they be able to find his pot of gold?  (Amazon)
This read aloud worked so perfectly with the students' STEAM project of the month….but I will touch on that in a bit! After the read aloud, Dr. Kia-Keating had prepared a loaf of banana bread for each student to transform into a leprechaun house. Look at these creations:
Students added a green tiled roof to the top of the banana bread.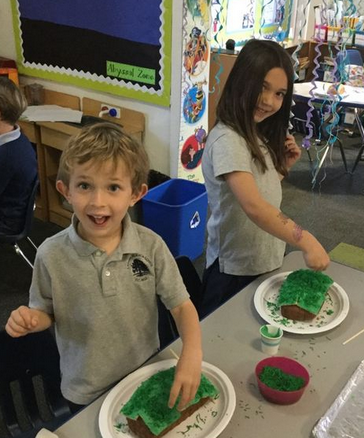 They then sprinkled green coconut to give the roof a "thatched" appearance.
Students added a door, windows, a chimney, and decorative flowers to finish off the house. Fun!
Yesterday was also the day that the STEAM project were due. For the month of March, students were given the engineering opportunity to make a leprechaun trap with a moving part. Oh, I hope we catch a leprechaun! Take a look at some of the creations:
This trap has a special prop attached to a piece of gold that keeps the lid open. When the leprechaun grabs the gold, the prop is released and the leprechaun is trapped in the box!
The leprechaun is lured into this trap by the gold pathway. Once inside, the rainbow piece moves to trap the leprechaun inside.
This trap has a ramp up which the leprechaun is encouraged to climb. As he reaches for the gold, he will slip off, stepping on the rolling pin, which will then spin the leprechauns off balance and into the box!
We put the traps on the students' tables before leaving yesterday, with the hopes of trapping one of these tricky little creatures over night. Well, look what those naughty leprechauns did last night:
They got into my Friday Fun art supplies…
danced all over the tables….
leaving messy green footprints and a trail of glitter….
The party ended at the sink! But they did leave us each a piece of gold!
What a treat it was to have Friday Fun today as well! In the kitchen, students made Rainbow Fruit Cups. Yum!
We also made glittery green slime!
What a fun day!