We followed up our Beautiful Oops lesson on creativity with the read aloud Have Fun, Molly Lou Melon, by Patti Lovell.
Molly Lou Melon's grandma taught her to be happy with herself no matter what, but  that's not all she learned. Molly Lou heard all about how her grandma didn't have fancy store-bought toys when she was little. She made dolls out of twigs and flowers and created her own fun in her backyard.
So Molly Lou does just that, proving that the best thing to play with is a huge imagination!   -Amazon

Molly Lou makes a car out of a cardboard box. She creates a doll house from a backyard tree and watches "tv" in the sky. Ultimately, she teaches her new neighbor how to not be bored by creating toys using ones imagination.
We then segued into our service-learning project for the month of March….Art Kits! We want to put together Art Kits to donate to the Cottage Hospital Pediatrics Department. We asked students to help us compile a list of arts and craft materials to include in each kit. Here are the items we are hoping to collect:
We will be collecting items for the Art Kits over the next two weeks and would appreciate any items you may be willing to donate. The kindergartners and first graders will be assembling the kits before Spring Break.
The students did their Creativity journal writing today. Here is how they show creativity: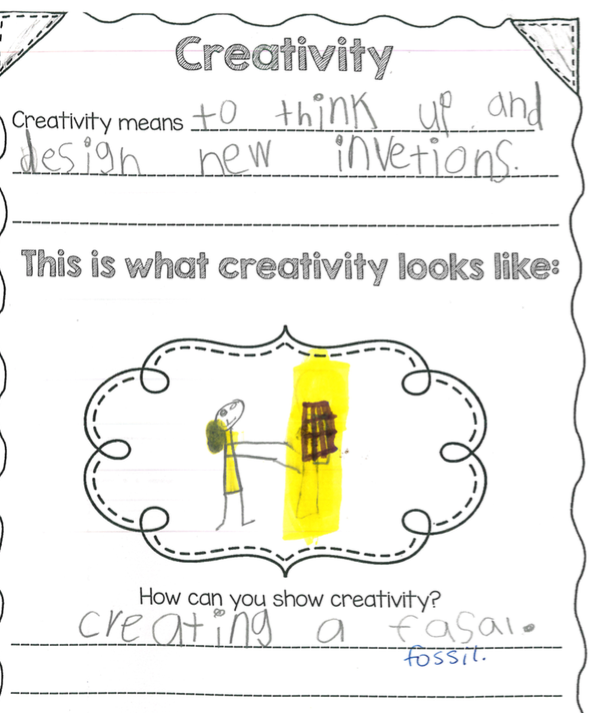 Isn't creativity a wonderful thing?!