It's a new school year, and we are fresh from summer break. I like to keep my fingers busy during the summer, researching and preparing new ideas and curriculum for the coming school year. So what is new for 2016-2017? Just wait and see!!
Heart Word (High Frequency) Word Program Revamp:
I have completely redone my high frequency word program. Students will be introduced to five new words every Monday. They will work through a packet of engaging and fun worksheets that revolve around those particular five words. The cover sheet that I created for each packet has each of the five words in an easy cut and use flashcard form.
So, when the packet is sent home each Friday in the Homework Folder, put your child to work cutting out the Heart Word flashcards and adding them to the special zippered pouch they received at Tuesday's scavenger hunt! What a quick and easy way to learn and keep track of those Heart Words!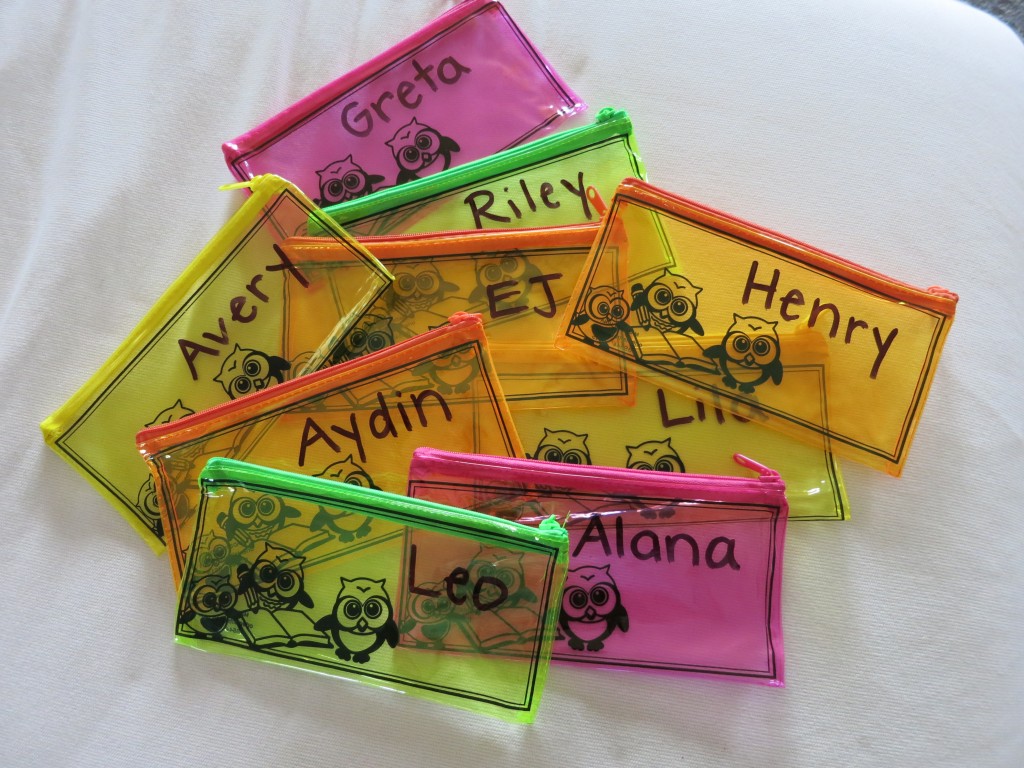 Brag Tags:
Ms. Atkinson and I developed our second installment of the Swooper Citizens citizenship program this summer. We added new journal entries, new literature, new service-learning projects and new check-in forms. Also, we decided to implement a brag tag system, where students earn these fun tags for simply making positive learning and character choices. When a student earns a tag, they will wear the necklace for that day. Fridays are swooper special, as all students will wear their brag tags.
Each student has a necklace.
Look at the fun colors of all the different tags!
Morning Exploring:
Most days will begin with a short Morning Exploring. Students will explore kits that focus on STEM activities or math tubs. This 15 minute time period gives me a chance to check in with parents or students, read with students, or help them explore new concepts.
STEM Activities:
I am excited to announce a collaborative learning project! Kindergartners will be working with Mr. Moore's Upper School Engineering class as part of a Project Based Learning STEM unit. (STEM stands for Science, Technology, Engineering, and Mathematics.) This project will take place during our first trimester and will involve an exciting addition to the Lower School campus that will likely be installed as early as next week!  Stay tuned for more information on what this addition is!
Additionally, students will learn the basics of engineering in both Home Room and Science classes. They will be involved in engineering projects during each of the thematic units we cover, including Five Senses, Spiders and Bats, the Gingerbread Literacy Unit, Dinosaurs, Oceans, and Fairy Tales. I can't wait for you to see what we have in store!
Finally, you will have a chance to be an active STEM participant during the monthly STEM challenges I plan to send home. Not only will students have a specific engineering project to create, but they will be encouraged to share their creations following a specific format to our class. You will be receiving more information regarding these STEM challenges in a few weeks.
Math Journals 2.0:
I first started using Math Journals with students last year. Most activities offered two to three levels of differentiation for students, depending on their needs. This part remains the same in Math Journals 2.0, but many of the activities have changed to support the updated curriculum. Students will enjoy an independent journal activity with each lesson that is introduced.
Digital Portfolio:
In addition to the language arts portfolio that your child will complete monthly this year, I am implementing a new digital portfolio that your child will design and archive. I will share more information regarding this exciting new addition to kindergarten soon!
and finally….Ms. Stark!
Ms. Stark (Madeline) is from Los Angeles, where she attended UCLA, graduating with a Bachelors of Arts Degree in English, with a minor in Film. Before landing here at Laguna, she participated in AmeriCorps, where she served as a literacy tutor for middle school students. Ms. Stark also worked at Girls Inc. in Goleta, where she enjoyed teaching a variety of classes, including literature and chess. In her free time, she enjoys practicing yoga and playing board games with her friends. Ms. Stark especially enjoys reading, which is perfect, since students will be spending a bit of time each day reading aloud to her. We are excited to welcome Ms. Stark to kindergarten!
So off we go! Be sure to subscribe to this blog so that you are notified each time I make a new post. Here's to an amazing year!