I love my classroom! The windows, the space, the sink, the STORAGE! When everything was moved out of the classroom this summer during the new carpet installation, I figured I would take advantage and reconfigure some things.
First, the giant cabinet that used to sit behind my desk was moved out.  This opened up that back corner for a bookshelf and my new piece of furniture that houses our Math Centers. I love the lime green bins!
Next, I moved the Math Manipulatives shelf under the Math Centers. It made more sense to me to have all the math items in one space. Moving the Manipulatives shelf made a space for the play kitchen to be moved to the front area of the classroom. which in turned, allowed for the Reading Center Learning Bins to line up nicely along the back windows.
On top of that shelf is a new Writing Center, where students will find everything they need to create a masterpiece.
The bulletin boards are all bright and new! I switched out the white paper and owl boarders for turquoise or lime green paper with coordinating borders.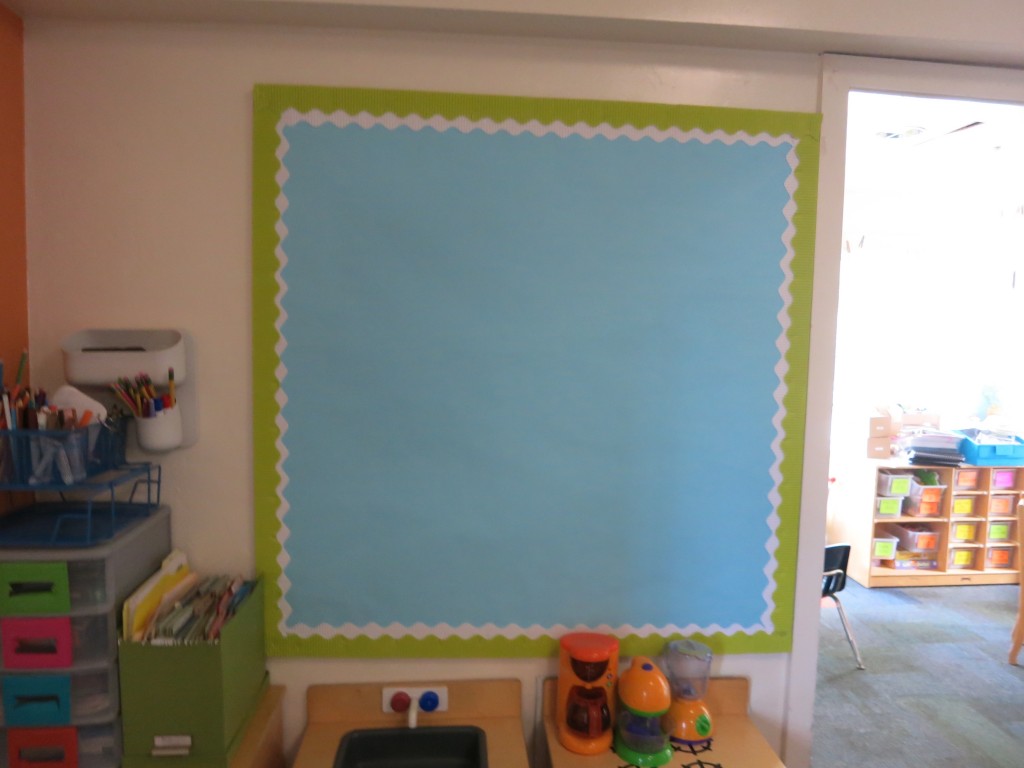 Work will be going up soon!
I have also added a new bulletin board, which will house important information regarding our Swooper Citizens citizenship program that Ms. Atkinson and I developed over the summer. I am excited to share more information about Swooper Citizens in the coming weeks.
The Heart Word Wall (high frequency word wall) has been overhauled! After reading a wonderful book by language arts guru, Debbie Diller, I made some key changes. The header letters are red (for vowels) and black (for consonants.) The rainbow colored Heart Words will be replaced with the words typed simply on white paper, since students will see these words in black and white when they are reading. The wall is divided into a grid, as the brain sees in borders. I am excited to give Debbie's teaching methods a try. I also created dozens of new games that use the Heart Words that students will play either during Reading Centers or once the finish their classwork.
The job chart has been revamped.
I have new bins for organizing each tables' journals and unit notebooks.
I also decided to try an new system for organizing completed work. When students have finished an activity, the place their paper into the file folder that is labeled with their name. Work will be corrected and returned to each student on Fridays via their Homework Folder.
Finally, I removed the reading pond rug, and changed the name of our classroom library to the Book Nook!
Here is to a fun and successful year in kindergarten!